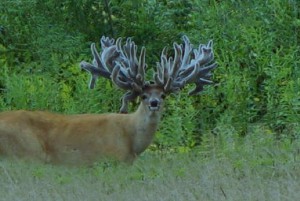 Wild Rivers Whitetails has been feeding Purina® AntlerMax® Diets exclusively on their farm since 2004. In 2011, they grew a deer named "Ballistic" that scored 561" Boone and Crockett. To the best of everyone's knowledge, it was the highest scoring deer for the 2011 antler growing season.
Purina® AntlerMax® Deer Chow contains our AntlerMax® Protein & Mineral Technology. It promotes antler growth by improving protein quality with ideal amounts and ratios of vitamins and minerals for optimal antler growth. Purina® AntlerMax® Deer Chow also helps milk production, milk quality and strong, healthy fawns with high survival rates.
Purina is proud to be a partner with Wild Rivers Whitetails located in Fence, Wisconsin. Gary Nelson, owner of Wild Rivers Whitetails, stated "There are 561 reasons why we feed Purina® AntlerMax® products to our deer, beginning with optimum nutrition, great customer service, and knowledgeable professional technical support."
Eagle Hardware Farm & Ranch proudly stocks Antlermax deer feed.  Stop by and pick up some today!